Canik Sfx Rival S for sale fully modular 9mm Luger Pistol with 2 Magazines and Kit has an ambidextrous serrated slide, a 5 inch steel barrel, and a textured polymer grip. It has an external mag-well with 18 round capacity and a reversible release. Accessorizing is made possible by a 1913 Picatinny rail.
Canik Sfx Rival S Chrome is competition-ready right out of the box and represents the most recent development in steel framed pistols. This exceptional handgun adds the weight of a steel frame to the award-winning Canik Sfx Rival S's tried-and-true design to handle even more recoil. The end result is a gun with excellent features that is incredibly accurate and soft-shooting. The optic-ready slide will appeal to fans of red dot sights, and with 18+1 rounds of 9mm available, the Canik Sfx Rival S Chrome can be used in almost any situation. Each pistol comes with two magazines as well as backstraps and grip panels that can be switched out to fit the hands of any shooter.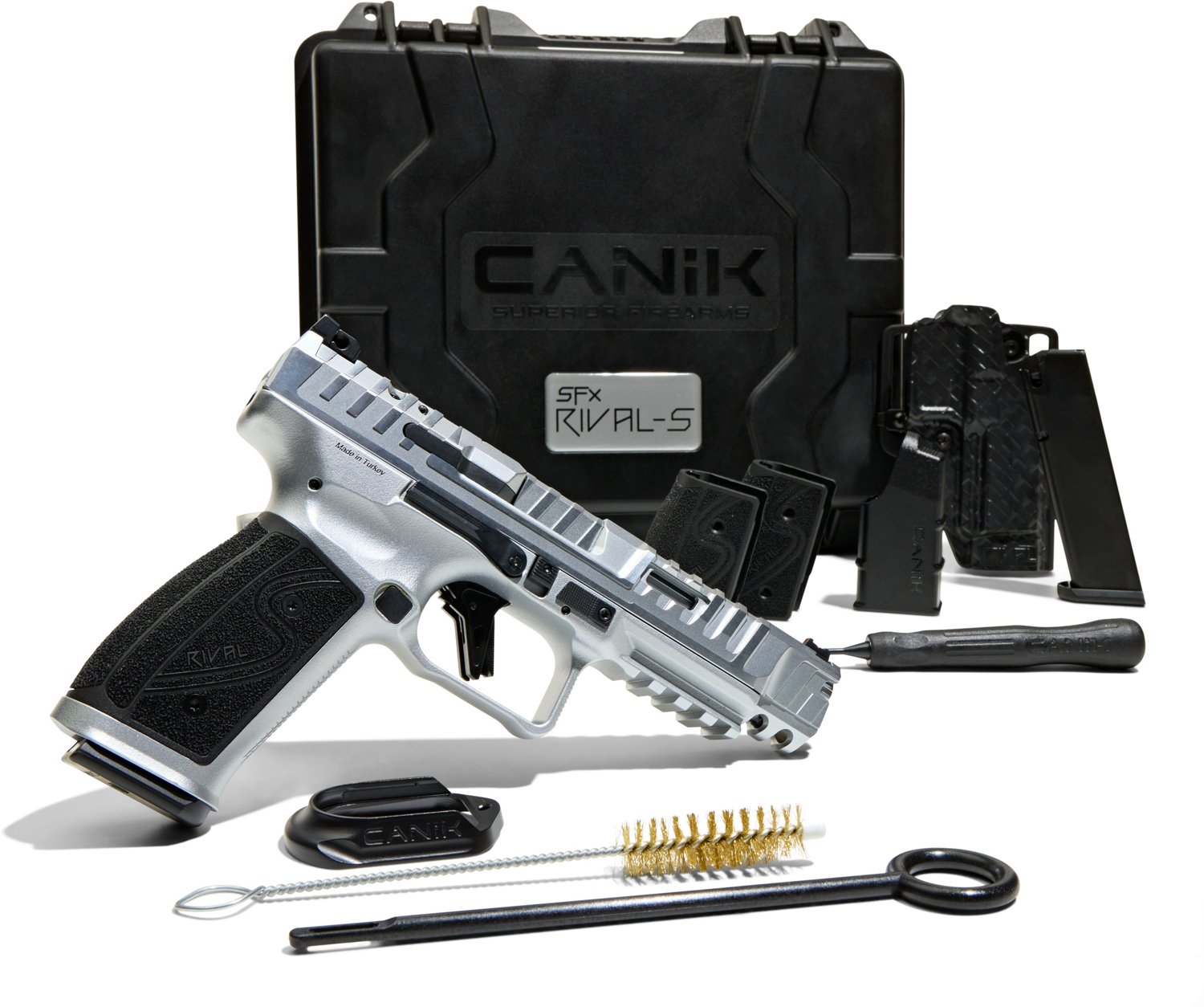 Features and Benefits
9mm Luger caliber with Optic
5 inch barrel
Textured polymer grip with 3 back strap sizes and an ergonomic beavertail
Serrated slide with ambidextrous release
Diamond cut 90° aluminum flat trigger
Double undercut trigger guard
External mag-well with reversible magazine release
1913 Picatinny accessory rail
Modular design
Kit includes a magazine loader and external mag-well, 2 magazines, 3 magazine release extensions, 5 optic plates, 1 Optic scope, 3 back straps, a custom holster, a punch and tool kit, a cleaning kit, a gun lock and a manual.
Specifications
Action: Double
Product Type: Pistol
Manual Safety: No
Activity: Shooting
Magazine capacity: 18
What's in the Box
canik sfx rival-s chrome 9mm Luger Pistol with 2 Magazines and Kit
2 magazines with loader
External mag-well
3 release extensions
5 optic plates
3 back straps
Custom holster with punch and tool kit
Cleaning kit
Gun lock
Manual
1 Optic
Important Product and Safety Information
We recommend the use of protective eyewear whenever using or near the use of this item.
Firearms purchased online are shipped to your local Gun store or FFL as selected in the checkout process.
Please note that all firearm purchases require valid US government issued ID and related firearm paperwork.
GUN SAFETY ALWAYS COMES FIRST
The first thing a new gun owner should learn is the fundamentals of firearm safety. You should always keep the muzzle pointed in a safe direction and be aware of what lies beyond your target, whether you're at the range or at home. Additionally, you shouldn't rely solely on the safety features on your gun. Always keep your gun unloaded until you're prepared to use it, and wait to pull the trigger until you're prepared to shoot. Click the Link to know more about gun safety https://youtu.be/chMQqClsLMQ